Becoming friends with your Aircraft
At CAMFC we strongly believe that learning to fly should be a fun and exciting experience for you as you start your new hobby. There are a number of pages on this website that get into the nuts and bolts of aircraft types, radios and regulations. These aspects will become important as you progress but in the beginning let's start with the basics.
What goes up .. must come down!
We sometimes feel that this really should go without saying .. what does up, must come back down and whether it comes back down in one piece can sometimes feel more like luck than judgement. Now we don't say this to be mean or put you off but there will be a time that even with the best of practice and skill, the wind will catch you out and you'll end up in a tree or a gloomy bit of sky covers up the model and you can't see it or you lose orientation and send the plane off in an unpredictable flight path. So, let's get it out there… you will one of a very lucky few to make it through your first year's flying without at least one incident.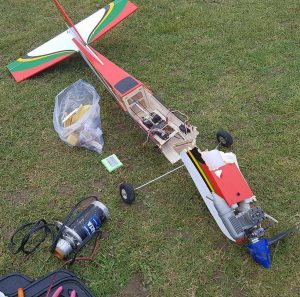 Don't get disheartened when this happens! Learning to "fly the plane as far into the crash as possible" is apart of the hobby and you will "occasionally" have an incident. Happily most incidents are minor (such as overshooting the runway) and easily repairable but some are not. Once a member quite literally shredded their prized plane to match sticks after mis-judging their approach and getting caught up in the the oak tree at the far right of the runway. Members do enjoy telling you about their own; sometimes rather spectacular crashes. It happens to the best of us!
Our instructors will do their level best to ensure that you have the tools to succeed. We will show you the correct pre-flight checks, we will show you how to make sure that your model is safe to fly, we will show you how to get out of sticky spots and how to handle the plane if your engine fails (deadstick landings). Members are also on hand to advise if you need it and thereby reducing the possibility as far as possible of something going wrong.
What you can expect
Assuming that your still reading and our words of crashes hasn't put you off, learning to fly is in many ways like learning to ride a bicycle. Riding a bike for the first time can be tricky which is why learning to fly with an instructor is best particularly while you are getting oriented in the air. Instructors can get you out of those tricky spots and prevent you from losing your plane. At CAMFC we have a team of experienced instructors who are willing and keen to show you the ropes so you have the best opportunity to learn and have fun.
First Steps
Your first step is of course getting in touch with the club. Please check the Committee area and contact the Training Coordinator. We love new guests at the field but if your expecting to fly we do need to know your coming! This is because we don't always bring trainer aircraft to the field. Training days are on Sunday's – weather dependant.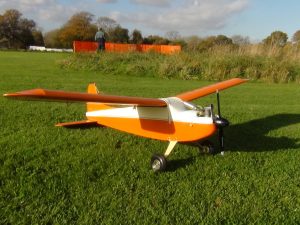 Once you arrive at the field an instructor will show you a model trainer plane. Fair warning, these trainers do look like the ugly ducklings of the plane world. They are designed to be bashed and crashed and look nothing like the spitfire of your dreams. Spitfires as it happens (in fact most warbirds), are challenging to fly as they require a lot of input and don't tolerate cross winds very well. Trainer aircraft on the other hand are usually high wing, self correcting and far more stable to make it easier while your learning. Once your instructor has shown you the controls in a short briefing you'll take to the air!
On your first flight, the instructor will do all the tricky bits like starting the plane, takeoff and landing. Most of our instructors use a "buddy box" system where they hold a master controller and you have a training controller. This allows the instructor to pass control of the plane as simply as flicking a switch and take it back if you get into difficulty. It also means that if you need to take a moment to regain concentration while the plane is in the air you can do at any time.

Want more?
After your first flight you'll know if the hobby is for you. If you enjoyed your first flight you'll be buzzing and eager to have another go. As long as time and daylight allows, you should be able to complete several flights with an instructor to get you started.
There will become a point where you'll need to join the club if you wish to fly and continue training with your instructor. Our club rules allow for three guest visits (separate days), before you'll need to make that decision. Instruction is always provided for free as part of your club membership, there are no limits on how long it takes you to learn to fly and our instructors are available to help even after you go solo.
Going Solo!
The time it takes to fly solo depends on a couple of factors namely:- previous modelling experience, how often you can commit to flying, whether you invest in a simulator (this significantly cuts down airtime needed to go solo), and of course the good old British weather.
Our club rules allow solo flying at our site as soon as you can consistently and safely show that you can complete the pre flight checks, take off, fly a circuit in both directions and land without intervention. Your ability and attitude to safety will be checked by a member of the club's committee. This means that if you can fly already, it is possible to go solo very quickly as long as your flying and preparing your aircraft safely.
Finally, all new members are encouraged to complete the BMFA fixed wing A certificate after going solo: http://achievements.bmfa.org/. The A certificate is considered the minimum for many clubs. We don't specifically require it at our site but we do strongly encourage all members to go for the test as soon as possible. The achievement awards programme demonstrates that you as a pilot have a good basic proficiency and understanding of the important legal & club rules.